Congressman Adam Schiff at yesterday's very successful media tour for the Rim of the Valley Corridor (ROTV)!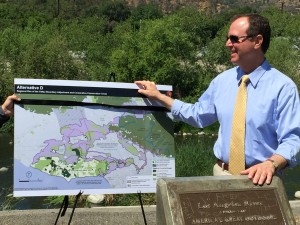 Kudos to Congressman Adam Schiff for championing the ROTV!  He has been the leading proponent of Rim of the Valley Corridor since he introduced it more than a decade ago. He is an outstanding leader and spokesperson – extremely well versed and passionate about preserving the corridor.
The media tour was an all day affair – we made four stops including: Brand Park in Glendale, North Atwater Park in LA (LA River), El Pueblo de los Angeles (Downtown LA), and Chatsworth Oaks Park – topped off with a very successful town hall last night at the Descanso Gardens in La Cañada Flintridge. It was packed to overflowing – 300 people.
Rep. Schiff is promoting Alternative D which is also our coalition's position. (D includes adding another 313,000 acres to the SMMNRA. Alternative C is nested in D).