Happy 60TH LVMWD – and – Thank You for the Partnership Recognition!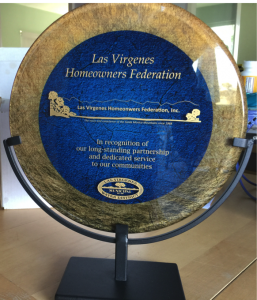 On behalf of the Las Virgenes Homeowners Federation your "partner in crime so to speak" at least for the past 50 years – we are honored to accept this acknowledgement and recognition of our longstanding, fruitful relationship.
We agree. History IS important – "Looking back to moving forward"is a very powerful reminder of that – and celebrating your 60threally calls to mind how
LINKED the Federation and the District have been and are, in common interest.
As allies for decades, we have forged forward, assuming roles that are NOT your stereotypical pro-GROWTH water district and homeowners federation. Quite the opposite. In actuality, we share a unique and deep commitment in protecting the magnificent natural wild resources of the Santa Monica Mountains – and a shared stewardship of the environment.
And, yet within that conservation context, the District meets the challenges of providing a reliable and safe water network to a mosaic of communities – antiquated subdivisions, rural villages, city, and mountain neighborhoods. The District understands the complexities, the needs, and the passion of its stakeholders – and that it is key to find the right balance.
Our enduring relationship is evidenced right here — Glen Peterson, is our former LVHF president, and Lee Renger is part of our Cold Creek Community – the original heart and soul of the Federation — and so deemed in the early days as the "Cold Creek Mafia" for their take no prisoners activism.
And of course, no one more than the late and great former board member and activist Hal Helsley personifies this better.
I can tell you unequivocally, there is no agency superior to the District when it comes to service, public outreach and community engagement. And, I mean that sincerely. Other agencies pale in comparison. And, although we may not say it on a regular basis, know that it is appreciated and respected by all of the Federation communities. David Pederson, Jeff Rhineheart, Carlos – and so many more – have all been fixtures over the years at many a meetingat Diamond X – patiently and considerately seeking input and giving us a heads up. Thank you.
We were there with you at the beginning, we've been there for the journey thus far, and we look forward to a fierce future, and to co-operatively conquering those challenges – drought, fire, and development.
Happy Anniversary. And, from the Federation to you, skol to the next 60 years.