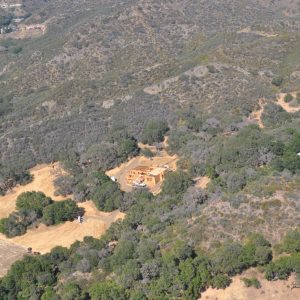 Activity has not only resumed on the American Horror Story set – the construction is now highly visible on Malibu Canyon – three stories high and looming. Yes, it greatly impacts our scenic resources and viewshed, and yes, it has been as much of a surprise and debacle for Regional Planning as it has for us.
So, you've been asking, how can this monstrosity towering above and amid the oak groves be allowed to continue in our newly adopted LCP?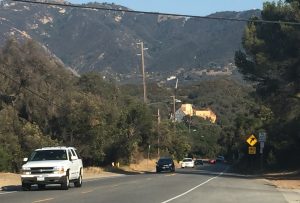 Well…aside from the fact that they've built a significant portion of this site without a film permit of any kind – the show's producers and Film L.A. took advantage of a loophole in our LCP – demonstrating little or no regard for the Santa Monica Mountains coastal resources. The good news is however, although it surely looks permanent, it is temporary, and it will be entirely removed in October — and they will be required to do extensive restoration.
Meanwhile, Regional Planning is plugging the loophole; and, the property owner will be required to get a Coastal Development Permit (CDP) governing the future use of the property for any potential filming.
Here's what our Los Angeles County Regional Planning Director, Richard Bruckner, has said, "Several oversights occurred in the processing of this film permit. We are working with the production company and Film L.A. to put in place new procedures to rectify these shortcomings. Although the film permit for The American Horror Story meets the standards for a temporary use in the Local Coastal Plan, an activity of this scale and duration was not anticipated. We are evaluating this provision of the LCP to address this problem. The Department of Regional Planning is committed to carrying out the Local Coastal Program including enforcement of the standards established by the Plan. We are adding significant conditions to the film permit intended to preserve the biological resources on the site and ensure that following production, all materials are removed and the site is restored to its condition prior to the film activities."
Furthermore, Regional Planning has required a biologist be on site whenever there is activity – particularly to prevent further impact to the surrounding old oak woodlands.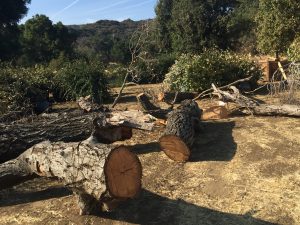 Our thanks to our Regional Planning Director and to our Planning Deputy for their steadfast and continuing efforts to implement and enforce the Santa Monica Mountains Local Coastal Program — despite the unexpected challenge of an American Horror Story….