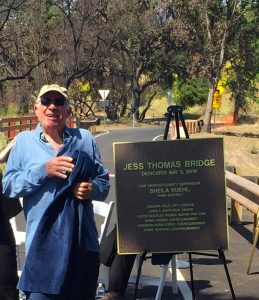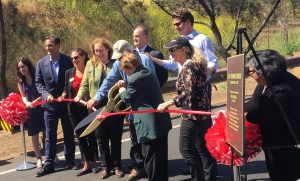 WOOLSEY RECOVERY – Kudos to Supervisor Kuehl, and L.A. County Public Works! Chesebro Bridge Rises Again as the new Jess Thomas Bridge!
Last Friday, our Third District L.A. County Supervisor Sheila Kuehl officially cut the ribbon dedicating the new Chesebro Bridge — honoring long time Old Agoura Homeowners President, Jess Thomas, by renaming it the Jess Thomas Bridge.
Jess is a strong and long time preservation activist — leading, engaging in, and winning battles to protect the Santa Monica Mountains for decades! He is also a past president of the Federation and Citizen of the Year.
The bridge had sustained irreparable damage from the Woolsey fire — severely impacting and isolating the community of Old Agoura. There were times during the storms when they were completely isolated from all emergency response services.
Supervisor Kuehl authorized the emergency funds for Old Agoura's lifeline bridge replacement, and the engineers designed the bridge on site with their laptop programs. The entire replacement operation was initiated in just a few days.
At the dedication ceremony, Supervisor Kuehl was joined by LA County Public Works Director Mark Pestrella — who did an outstanding job in directing the rebuild effort.
Congratulations were also delivered by our State Senator, Henry Stern who has been an excellent advocate for his constituents impacted by the Woolsey fire; and by Agoura Hills Mayor Linda Northrup, Mayor Pro Tem Illece Buckley Weber, and Councilmembers Debbie Lopez and Christ Anstead — who all played a significant role in seeing this come to fruition.
Former State Senator Fran Pavley was also in attendance and former Agoura Hills Mayor, Joan Yacovone, and so many others. A special shout out to Maria Chong-Castillo too – Public Works Deputy for Sheila Kuehl – who knows the turf well and always does a great job.
Great Community. Great Government.