The activist is not the man who says the river is dirty. The activist is the man who cleans up the river. – Ross Perot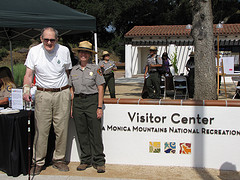 Dave – It was not long ago that we were here, at the opening of our Visitor Center at King Gillette Ranch and we were marveling at how great it really was. And today, we sadly return without you, to salute you, and your vast array of accomplishments as our past-president, Santa Monica Mountains activist, prolific newsletter writer, and thirty-five year veteran Federation delegate. (P.S.- Thanks for the rain – we sure will miss scouting those creeks with you!)    LVHF
* * *
Dave Brown was a compelling force – a dedicated activist – who battled the "unscrupulous" for decades. He was our hero – and, his legacy lies in the Santa Monica Mountains that he so loved – in his efforts to preserve and protect our beloved wildlands and wildlife. Dave was a fighter among fighters – the longest and one of the most dominant.
His encyclopedic memory held vast reserves of knowledge. At any given time Dave could recite specific dates and details of events/battles that both compelled and continually captivated us.
He was a history teacher, an Advisory Committee Member of the Santa Monica Mountains Conservancy and a former Planning Commissioner.
He was our friend, partner, a leader and a trail blazer. We miss you Homer. You will always walk the Santa Monica Mountains in our hearts …..
See this 2 1/2 minute video of Dave with Supervisor Zev Yaroslavsky at the dedication of the Las Virgenes Highlands Park. Yes, we're certain you "walked up to heaven through a place like this Dave" …..
http://www.youtube.com/watch?v=hu9dAcX-vYE
From our Supervisor Zev Yaroslavsky:
I was very sorry to hear of Dave Brown's passing.  While it was not unexpected, this has left a great void in the lives of those of us who have toiled in the vineyards of Santa Monica Mountains protection and preservation.  No one was a greater guardian of our natural resources than Dave Brown.  He had the unique combination of vision and practical acumen to implement that vision.  So many of the environmental achievements in the western part of Los Angeles County over the last three decades have Dave Brown's fingerprints all over them.  He will be sorely missed, both on a public policy level as well as a personal one.
Zev Yaroslavsky