Third District Supervisor, Zev Yaroslavsky, named Federation President, Kim Lamorie, as his Los Angeles County's Third District, Woman of the Year recipient. 
On Monday, March 11, 2013, the Los Angeles County Board of Supervisors and the Commission for Women will hold its 28th Annual Women of the Year Luncheon at the   Millennium Biltmore Hotel, 506 South Grand Avenue, Los Angeles. The luncheon will begin at 11:00 a.m.
The Federation has worked for 46 years to enhance quality of life issues and more for all Los Angeles County residents…. stay tuned for more upcoming info.
The press release is below (click to open):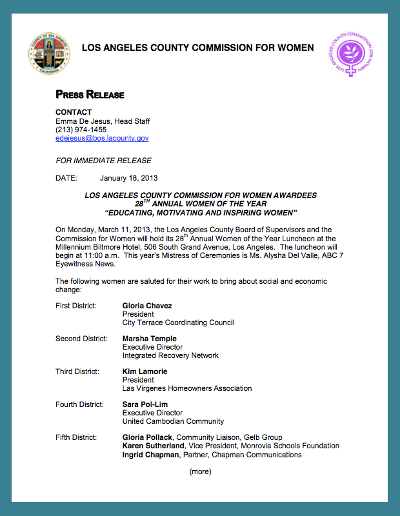 This entry was posted in News by lvhf. Bookmark the permalink.
© 2012-2013 Las Virgenes Homeowners Federation